Sleep Apnea Treatment – Arlington, TX
Providing You With Restoring
& Revitalizing Rest
Sleep apnea is a common condition that is said to impact over 22 million Americans. Many patients never seek out treatment because they aren't aware of the dangerous effects it will have one their physical and mental wellbeing when it's left unaddressed. While chronic snoring and grogginess are both common side-effects of sleep apnea, it can also increase your risk of a variety of other medical conditions, such as heart attacks and strokes, making it vital to treat. Learn more about our options for sleep apnea treatment in Arlington, TX on this page.
Why Choose Robert A. Whitmore, DDS
for Sleep Apnea Treatment?
Customized Oral
Appliance Therapy
No Nose Mask
Required
Reduced Medical
Risks
How We Treat Sleep Apnea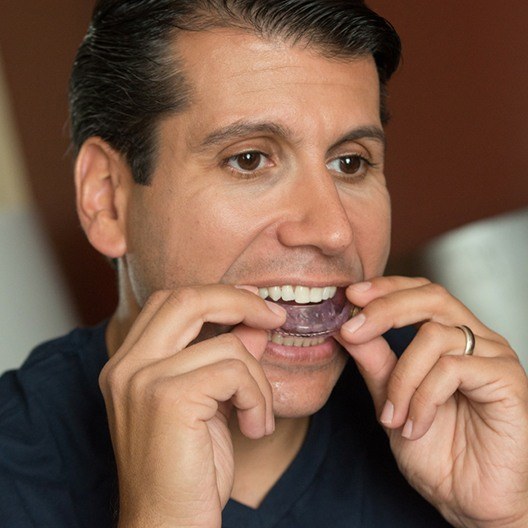 Once you've been diagnosed with sleep apnea by a sleep specialist, you can visit our dental office to discuss treatment options with Dr. Whitmore. We offer customized snoreguards that help open your airway to increase the oxygen flow while you're sleeping. These are retainer-like appliances that don't require the use of a facial mask or loud machine, so you can remain comfortable while you're getting a restoring night of rest.