Dental Implants – Arlington, TX
A Tooth Replacement Solution
To Rival Them All
Whether you have a single gap in your arch or you're missing an entire row of teeth, this problem can make life difficult by affecting your chewing and speaking abilities. While traditional tooth replacement treatments may be the best option for some patients, Dr. Whitmore also offers dental implants in Arlington, TX. This is one of the most advanced restorative procedures, and it can provide you with a wealth of benefits since the end results are so similar to your natural teeth!
Why Choose Robert A. Whitmore, DDS
for Dental Implants?
American Academy of
Implant Dentistry Member
Panoramic
X-Rays
Partners With The
Best Oral Surgeons
What is a Dental Implant?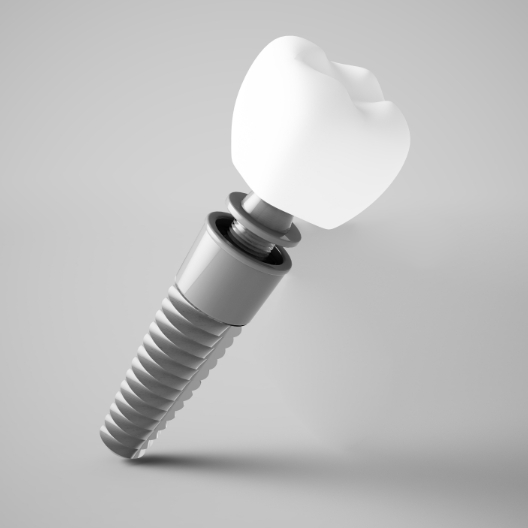 A dental implant is a small, titanium post that can be surgically placed below your gumline to replace the missing root-portion of a tooth. The metal is biocompatible, allowing it to fuse with your jawbone and provide the area with necessary blood flow and stimulation. Atop the implant will be placed an abutment, which is a metal connector piece that secures the restoration in place. The number of teeth you need replaced will determine how many dental implants are required to be placed.
Benefits of Dental Implants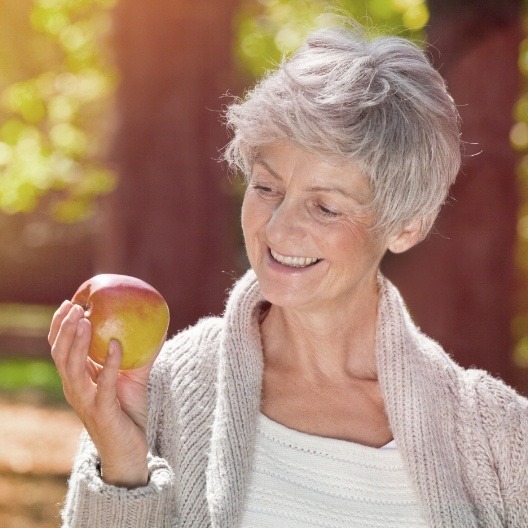 Dental implants offer a variety of unique benefits that make them so popularly recommended among patients and professionals alike. Some of these advantages include:
Preservation of full facial structure.
Prevention of jawbone deterioration.
Natural-looking artificial teeth.
Enhanced eating and speaking abilities.
Added strength and stability.
Eliminate slipping and shifting.
Keep surrounding teeth from drifting out of place.
Boosted self-confidence.
No alteration of surrounding healthy teeth required.
Can last 35+ years with daily maintenance.
Are Dental Implants Right For You?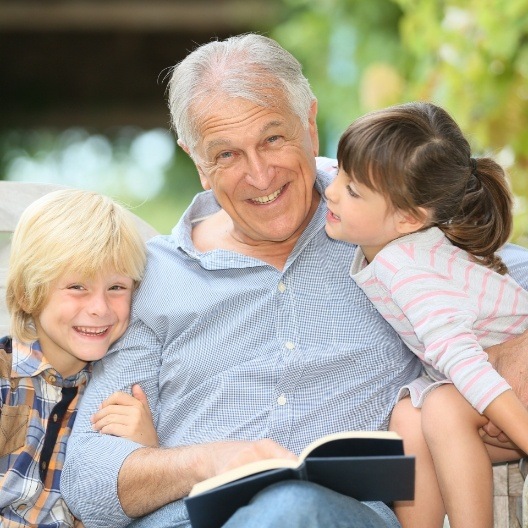 The best way to find out if dental implants are right for you is to schedule a consultation with Dr. Whitmore. During your appointment, our team will take detailed images of your mouth and conduct a visual examination to determine whether you require any preparatory procedures before the surgery can take place. We'll draw out a customized treatment timeline to walk you through as well, so you know exactly what to expect from the process.
Missing Single Tooth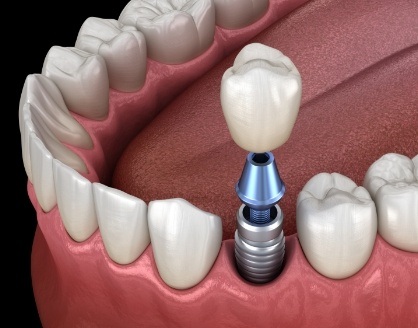 Although it may not seem like a big issue, even a single missing tooth can cause serious problems down the road, including misalignment, increased risk of oral health problems, and alteration of your diet. We can fill the cap by placing a single dental implant below the gums and attaching a custom-crafted, natural looking dental crown to it. By completing your entire row of teeth, the area will also be easier to brush and floss.
Missing Multiple Teeth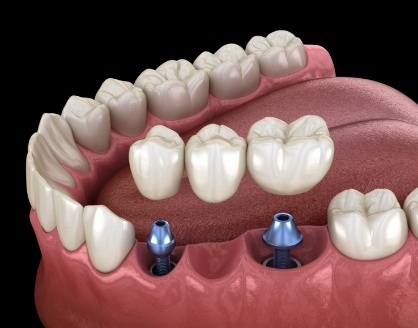 Traditional bridges require altering your natural, healthy, surrounding teeth in order to secure the restoration to fill the gap. Unfortunately, this can make them more susceptible to decay down the road if they're not properly cared for. Instead, we can place two dental implants on either side of the gap in your arch and secure a bridge to them, eliminating the need to alter your health teeth and providing you with added stability.
Missing All Teeth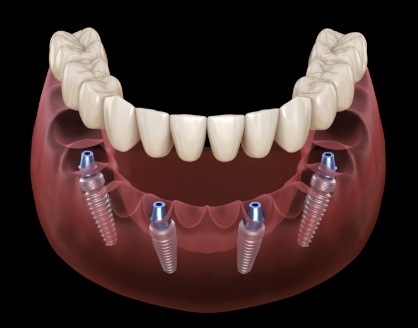 Some patients who have traditional full dentures don't feel as though they're stable or strong enough, because they can sometimes slip or shift in the mouth. This is likely due to the fact that they rely on natural suction and denture adhesive to stay in place. Implant-retained dentures are anchored to titanium implants that are fused with your jawbone, eliminating this problem altogether and providing you with a longer-lasting, more natural-feeling tooth replacement solution.
How Dental Implants Work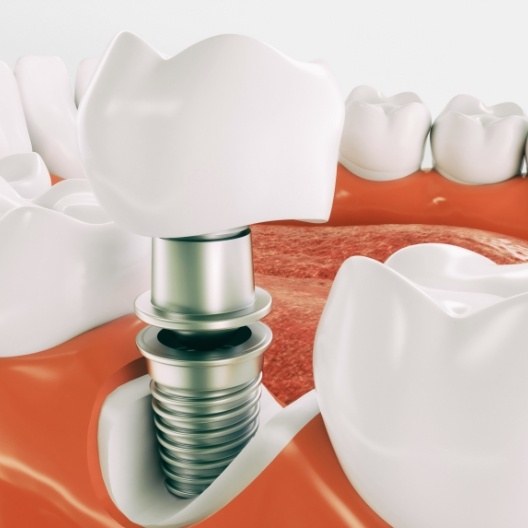 Dr. Whitmore partners with the best oral surgeons in the area to provide you with amazing results. After your surgery, our team will handle the rest of the procedure, including the abutment placement, crafting of your restorations, and placement of your final artificial teeth. With daily brushing, flossing, and routine checkups and cleanings with our experienced dental hygienists, you'll be able to continue to enjoy your restorations for 35 or more years.
Understanding the Cost of Dental Implants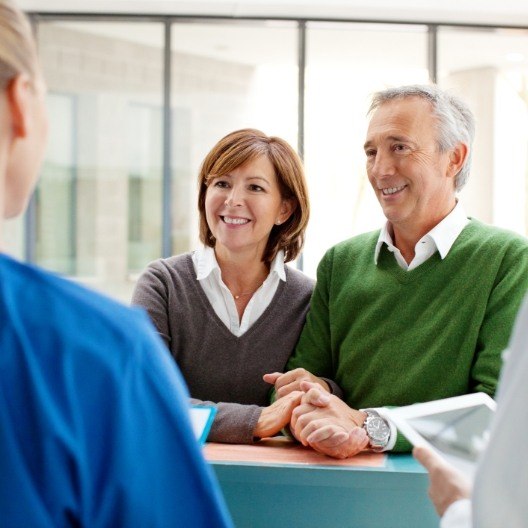 The dental implant procedure is unique because it's customized to fit each individual patient's needs. That means that there's no real singular price tag that you can put on the procedure, because it can vary so greatly. The best way to learn more about financing options and the cost of getting dental implants is to schedule a consultation. Our team will discuss pricing factors with your during your visit, such as how many implants you need placed and what restoration you require.
Dental Implant FAQs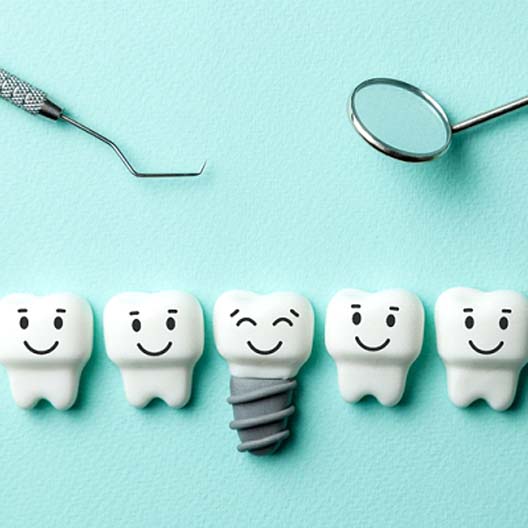 Dental implants are a preferred tooth replacement option thanks to their numerous benefits. That being said, they are quite an investment, so it pays to be well-informed about the procedure. We're here to help. Here are the answers to some of the most common questions we receive about dental implants in Arlington. If you don't see the information that you're looking for below, don't worry! Give us a call and we'd be happy to answer your questions and get you started with an initial consultation.
How Long Do Dental Implants Last?
The lifespan of dental implants typically depends on the health and lifestyle choices of the patient. To ensure that they last, be sure that you brush twice, floss, and rinse with a mouthwash daily. See your dentist for regular cleanings and checkups, and avoid chewing on anything particularly hard or sticky. With proper maintenance, implants can last upwards of three decades. This is several times longer than traditional bridges and dentures.
Does Getting Dental Implants Hurt?
The jawbone doesn't have very many nerve endings, and your mouth will be numbed with a local anesthetic before the procedure begins. You will also most likely be sedated, lowering your body's ability to register pain. While the surgery shouldn't hurt, your mouth may be sore for a few days following. Take recommended over-the-counter and prescribed pain relievers as directed. Cold compresses can also help. If discomfort worsens instead of improving after two or three days, give us a call.
How Successful Are Dental Implants?
When placed by a skilled professional, dental implants have a very high success rate of over 95%! The success of your dental implants will depend on how well you take care of them with oral hygiene, routine checkups, and healthy lifestyle choices. Success can also vary depending on where the implant is located in the mouth. Molars receive more strain from chewing, so they may be slightly more likely to fail.
Will I Have to Take Off Work for Dental Implant Surgery?
Most patients only need to take one or two days off work to get dental implants. If your job is physically demanding, you may want to take three or four, as heavy exercise can divert blood from the implant site and delay healing. However, every case is different. During your initial consultation with Dr. Whitmore, you will receive a more specific recommendation to meet your needs.